Stand with Ukraine. Save peace in the world!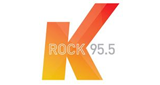 95.5 K-Rock
K rock 95.5 (call sign: 3CAT) is a commercial FM radio station based in Geelong, Australia. K rock operates a mainstream Top 40 playlist.
Show more
Information about the radio
In 2017 the on-air line-up consists of "Fresh Daily with Tom and Buckle" (breakfast) (Josh Buckle and Tom Lewis), day jock Josh Olek (10:30am - 3:00 pm), Stampsy (3:00 pm - 4:00 pm) and "The Departure Lounge" (4:00 pm - 6:00 pm with Stampsy and Jamie).

K rock's football coverage mainly consists of Australian Football League matches involving the Geelong Football Club. Commentators include Anthony Mithen, Andrew Bews and Tom King.

K rock shares transmitter facilities with sister station 93.9 Bay FM (along with 94.7 The Pulse and 96.3 Rhema FM) - broadcasting from a high-powered transmitter on top of Murradoc Hill on the Bellarine Peninsula. The licence area covers the Greater Geelong area, Werribee and Western Melbourne, The Golden Plains, and the Surfcoast. K rock also streams online via their website.
Being changed to K-Rock on the eve of the station's commencement on the FM band at 95.5 MHz, on 27 January 1990.
After simulcasting on both 1341 AM and 95.5 FM for 24 hours - K-Rock went to air at midday on the Saturday of the Australia Day weekend 1990, the first announcer to speak on the new FM station was Ian 'Strawny' Strachan.

The original line-up consisted of Mike O'Loughlin & Bogart Torelli (breakfast), Dave Ferguson, Tim Hind, Craig Vesey, Ian Strachan, Gavin Morris and Craig Meddings.

K Rock's lineup in the mid-1990s featured "Dave & Roxie on the Big Mattress" (Dave Gorr, Roxanne Bennett and Brendan Roberts' character voices), Steve Woods (also Program Director), Todd Austin, Frank Fursey & Wazza (Warren Penny). At its peak this lineup delivered record ratings in Geelong, Werribee and Western Melbourne with a blend of Classic Rock, Modern Rock and local personality.

Other K-Rockers have been John Hood, Peter Mobbs, Rick The Roadie (Simon Dale), Daryl Reader, Steve Chandler, Matt Bern, Dan Veling and Greg Parkinson.

K Rock was also Australia's first FM station to cover AFL football. With a lineup that included Ted Whitten, Sam Kekovich, Billy Brownless and Dwayne Russell, K Rock focus on all Geelong Football Club matches, and is proudly one eyed.

In 1996, K-Rock FM and Bay FM achieved a record 11 RAWARD nominations in the programming area, winning 5 awards – an achievement only equalled that year by Melbourne's Fox FM. During this period, despite the strength of all Melbourne radio stations reaching the listening area, nearly 1 in 3 Geelong people listened to K-Rock. In recent years, the ratings of K-Rock have declined to the point where a 2016 ratings survey showed an audience of 8.9 per cent in the local area - behind the ABC and sister station Bay FM.[3]

Originally owned by the Hoyts organisation, which operated the successful Triple M brand in Australia, K-Rock was sold to Sydney-based Grant Broadcasting in the mid-1990s.

Shortly after this the station purchased the rival Geelong station, 93.9 Bay FM, moving it from its Ryrie Street studios to co-locate in the K-Rock studios in Moorabool Street, Geelong. Both K-Rock and Bay FM now operate from the same studios in Geelong's CBD.

In 2007, K-ROCK celebrated 75 years of broadcasting 3GL and K-ROCK Footy, culminating in a week of broadcasting at various events as the city celebrated the first AFL Premiership victory by the Geelong Football Club in 44 years.

In 2010, K-ROCK underwent a major format change which re-focused the music toward a younger audience and minimised the station's traditional rock base. The station has struggled to find a new audience.
Radio contacts
Studio: (03) 5223 2955