Stand with Ukraine. Save peace in the world!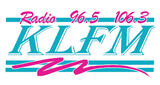 Radio KLFM
Bendigo, 96.5-106.3 MHz FM
Community based Radio Station 96.5fm Bendigo 106.3fm Castlemaine and Streaming Live @ www.klfm.com.au.
Show more
Radio KLFM reviews
KLFM THIS my kind of Entertainment.

1.46 pm

Jessica Hannelas

13.04.2020

Hello to KLFM Team!

Fantastic music .....with the majority of announcers being volunteers , the station does a great job...
Information about the radio
KLFM began broadcasting in 1989, with a strategic programming philosophy of delivering an uncluttered, broad variety of music for the mature listener across Bendigo and Central Victoria.

Station's music format incorporates a varied mix of music from the 50's, 60's and 70's, right through to current releases. KLFM is also very focused on keeping their listeners up to date with local and national news (Fairfax 3AW) and information on what is happening within our local community.

At KLFM they stick to a simple, consistent, smooth format, so when tрeir vast, loyal audience tune in, they know exactly what they are going to enjoy!

KLFM's programs also include some wonderful specialist programs each evening and on the weekends, including " A Drop Of Irish", "Jazz After Hours", "Thanks for the Memories", "Overnight Country", "Tracks of the Blues", "Sunday Country", Casey Kasem's American top 40 and Rock n Roll Dance Party and many more.
Radio contacts
Studio: (03) 5444 1355
POSTAL ADDRESS: P.O. Box 2997,Bendigo, Vic, 3554
ADVERTISING: 0419 041 157