Stand with Ukraine. Save peace in the world!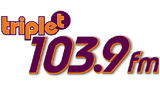 Triple t
At FM 103.9 Triple T we are committed to providing the North Queensland community with the music and program content they want to hear.
Show more
Triple t reviews
Hi Victoria, great music, love the music Chicago . you doing a fanatic job, love listing cheers Martin and Robin

Thanks Ursula for such an enjoyable show. I am visiting from Melb and have thoroughly enjoyed the lay back music. I too love Louis Armstrong. Andrea 😀

Since the ABC has gone west, i was looking for a great country easy listening station i have now found it thanks to Jim Gray im now a fan of Triple t 103.9fm.

Thank you Graham. Made my night. Love ACDC

Tony N Digiglio

01.02.2023

WOW I just heard a song on the morning show played by Ursula, it was called Bridges and Water that was amazing can't wait to hear it again.

Deborah Candlish

16.12.2022

Loving your show Mona!!! Youve got a new fan!!!!

Amazing music choices Graham. I am thoroughly enjoying your Saturday night selection - you definitely have a voice for radio….

Paris Cantwell

24.05.2022

Mona you are amazing!!! I could listen to your bit everyday!!

Desmond Fazldeen

22.03.2022

Good Work Kay

Kathy Hatchman

02.01.2022

Love it
Information about the radio
103.9 Triple T feels the obligation to do some quality programming for their radio listeners community. 103.9 Triple T has been acknowledged as a great non profit radio station of the country who broadcasts musical programs for a greater promotion of beautiful music to their mass number of daily listeners with as much quality content possible.

The Townsville Community Broadcasting Company Limited is the licensee of Radio Station 103.9 Triple t broadcasting from a 5kw transmitter on Mount Stuart. The station was Townsville's first FM station, going to air in 1982 as "4ttt-fm". In 2006 the station changed it's on air name to 103.9 Triple t with the slogan of "Unforgettable", an indication of the music and memories we play.
Radio contacts