Stand with Ukraine. Save peace in the world!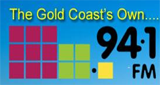 94.1FM Gold Coast Radio
94.1FM is a Gold Coast Community Radio Station offering a music format catering for today's "up and at it" senior generation. With new music and valued memories by original artist and also many of today's new performers. The station also offers LIVE up to date reports for Boating, Surfing and Traffic during Breakfast and Drive.
Show more
94.1FM Gold Coast Radio reviews
A wonderful radio station, just perfect

michelle Border

10.07.2023

love love love 94.1

you play good music BUT you play several ABBA songs every day !! , well l turn it off when you do ! its not like you play any Aussie bands everyday !!! so why so much ABBA Why ??

Still my favourite!

Wendy Anderson

01.08.2022

Love your station don't change anything have it playing on Spotify all day when home ❤️👋

Really enjoying the jazz and blues night tonight! Thank you! best station I have been listening since you first started

Jennifer Louise

10.04.2022

Thanks so much for the kind words Jimmy, we look forward to seeing your smiling face at "Justify ya Cafe 😊💕😇

Saturday night - you guys are awesome! Love the music! Dancing in the lounge room with my girlfriends!

Just wish I could get it as a direst app. Also are you aware that some of the songs are Jumping today? Mid song, mid words… maybe it's my phone?

Great oldies music,Way too much of the Beatles repeat,repeat,repeat every Sunday night.
Information about the radio
94.1FM is a music station playing mainly music from the 80's, selected music from today sprinkled with 60's & 70's Classic Hits. There is no doubt we have the biggest variety of music with a number of feature programs.

94.1FM targets the Gold Coast mature audience of baby boomers and the top end of Gen X that's "still living" and "enjoying life to the "max"– with a large disposable income.

94.1FM Studio is located at Suite 10 Rodman Centre, 11 Karp Court, Bundall in the centre of the Gold Coast and we broadcast from Tambourine Mountain on 5KW power the same as all major stations covering from South Brisbane to the Tweed Coast, and to the world via Internet Streaming.
Radio contacts
PO Box 7741 GCMC (Gold Coast Mail Centre) Qld 9726
https://www.instagram.com/explore/locations/857597315/941fm-gold-coast-radio/