Stand with Ukraine. Save peace in the world!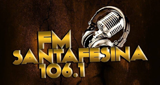 Radio Santafesina
Espacio radiofónico en vivo con una variedad de programas musicales y de entretenimiento que nos ayudan a disfrutar de cada minuto del día, con temas potentes y bailables para un público joven adulto.
Radio Santafesina reviews
Cristian Bianchi

10.05.2023

Cual es el número para dejar saludos ???

Roberto Girado

13.04.2023

Atte Roberto desde Ayacucho BsAs

Me pasan el número que no lo engancho nunca y lo dicen muy rápido..graciassss

Marina Aguilar

01.08.2020

Los palmeras amor de millonario

Ariel Oscar Beron

01.07.2020

hola me encanta la radio soy de rosario me podes pasar un tema de los lirio soy ariel

Nico Jacqui Rodríguez

10.05.2020

hola buenas noches muy linda la radio los escuchamos de la falda cordoba saludos para el club del renault 18 rosario de parte de nicolas y jacqueline

Maximiliano Gaston Chamorro

07.05.2020

Hola Laura base soy maxi Chamorro quiero salir a mi cuñada romi y mi suegro Ramírez me pasa un tema de leo mattioli caballito de mar gracias

Buenisimaaaaa

Nadia Fernández

30.01.2020

Linda saludos 🥰

ME Aburrieron con los saludos y los audios....... cambio la radio hermano !!!!!