Stand with Ukraine. Save peace in the world!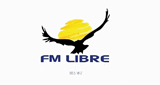 FM Libre
Sierra Grande, 88.5 MHz FM
Radio Libre promueve el interés por el arte, la cultura, la política, la inclusión, la actividad comunitaria, el esfuerzo colectivo y la libertad de pensamiento y expresión. El 3 de mayo de 2011, inició el proceso de comunicación con un lenguaje simple, que permita construir imágenes comprensibles para que prevalezca la magia de la radio.
Show more
Information about the radio
Quienes formamos parte de ésta, estamos convencidos de que el medio de comunicación debe convertirse en el reflejo de la comunidad a la que pertenece, estar a su servicio, elevar la calidad de vida de las personas, ser un lugar de encuentro e integración y promover el protagonismo de los hombres.
Somos conscientes de nuestro rol, contamos lo socialmente relevante y hacemos un periodismo desinteresado en favorecer a determinados sectores.
Por eso, "Radio Libre, 88.5″ hace que detrás de sus micrófonos se escuchen todas las voces.
Radio contacts