Stand with Ukraine. Save peace in the world!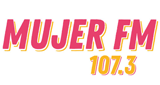 MUJER FM
Con casi dos décadas al aire, Mujer Fm (antes Radio de La Mujer), te acompaña en todas tus actividades diarias, con la mejor música latina, hits actuales, los de siempre y un toque de clásicos internacionales. 24hs de canciones que no parás de escuchar!!
MUJER FM reviews
HOla, soy Silvia, desde Salta Capital. Escuché tu comentario sobre la manera en que debemos llevar esta situación, "Actitud" muy buen consejo, tenemos que tener la capacidad de estar mejor en la medida que de nosotros dependa. :) Saludos!!

El mejor Agus

Esperando a Agus Casanova!💘✨

Muy buena la radio, lo unico que no me gusta es que a la tarde mezclan musica hermosa, baladas y otras con esa musica carfibeña que lo unico que dicen es que a la mjer la van a partir en dos. Hagan un programa con esa musica solamente. Lo demas muy bueno todo

Alejandra Alcira Iriarte

17.04.2020

hola muy buena mucica me encanta soy alejandra iriarte de cruz alta cordoba mandame saludos para mi hijo dylan y mis hijas elizabeth y damaris y mi pareja pablo

Cristina Tesouro

28.12.2019

genial

Me encanta la radio! Siempre los escucho! Bendiciones desde Sgo del Estero! 😘

Bell Zalesky Pavon

02.08.2019

Me encanta la programación....

Despensa Ale-jandro

31.07.2019

un saludo para kira de santiago del estero que escucha todas la mañana la radio ,,,esta con sus mama en la despensa ,+alejandro+

Patricia Casanova

11.01.2019

Te escucho todas las mañana , muy buena onda !!! Sigan así, éxitos y feliz año !!!!