Stand with Ukraine. Save peace in the world!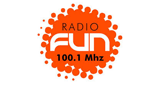 Radio Fun
San Martín de los Andes, 100.1 MHz FM
Emisora que transmite las 24 horas del dia, desde Sta. Maria de Los Andes, brinda una variada programacion con lo que ha logrado la preferencia de los oyentes, entre sus programas estan las noticias regionales, sucesos, eventos, temas de actualidad, cultura argentina y mucho mas, a traves de la frecuencia FM.