Stand with Ukraine. Save peace in the world!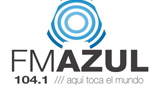 FM Azul
Villa Carlos Paz, 104.1 MHz FM
Estación de Villa Carlos Paz que transmite a lo largo de las 24 horas con una impresionante programación musical, en la que se lleva a los oyentes una gran colección de temas de rock, así como otros espacios divertidos y entretenidos.
FM Azul reviews
una radio especial para acompañar los días a la distancia ,los escucho siempre desde Barcelona -España.. ya hace 20 años que deje mi ciudad bella y mi país a la que añoro con mucha nostalgia.. Gracias FM Azul por estar siempre acompañandome.. Un gran saludo desde la distancia.

Super, para acomapñar las tarde de trabajo, y una que otra copita … por qui me tendréis conectado con frecuencia

Una maravilla de radio. Excelente compañía. La escucho siempre que voy a mi casa de Cuesta Blanca y cuando estoy en mi ciudad, Morteros, es mi compañía permanente. Genial selección de temas. Alto nivel. Muy buena!!!!!!. Me hace sentir siempre cerca de mi lugar de ensueño, las sierras. La escucho y me transporta. Gracias genios

Alejandro Molde

25.08.2020

me parece una radio que pasa muy buena musica pero desgraciadamente sigue con su politica de mi*rda de ocultar los nombres de los temas que pasa y sus autores , la verdad despreciable.