Stand with Ukraine. Save peace in the world!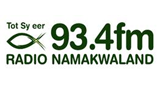 93.4 FM Radio Namakwaland
Ons wil 'n verskil maak deur hierdie Godgegewe medium ten beste te benut om die Evangelie van Jesus Christus in al sy konsekwensies eerlik en suiwer te bedien aan al die mense van Namakwaland. Ons wil dit op so 'n manier doen dat die eenheid van die gelowiges gedien word en uitvoering gegee word aan die Sendingopdrag van Mattheus 28: 18 – 20.
93.4 FM Radio Namakwaland reviews
Hier in die Kaap het ek reg langs verskeie radiostasies gewoon; in die Swartland het ons 'n radiostasie gehad. Ekself het gereeld oor die radio gepraat in die binneland. Waar ek nou woon, is reg langs 'n uitsaai-ateljee maar my laptop speel heeldag Namakwaland bloot omdat Jesus verheerlik word. Die Kaap is waar die land se eerste gelofte afgele is; dat die Evangelie van hier en verder verkondig sal word.

Namakwaland ek en my vrou is nou in ons vyfde jaar in Kaap -- Provinsie vanaf TRansvaal. Ek glo ek was so gely deur die Heilige Gees om by julle uit te kom. My vorige vier was stil/dood gewees,nou lewe ek weer met julle om na te luister want julle is n stem vir GOD. Die beeld wat julle uitdra is n lig wat skyn. Julle doen wat gevra word om te doen en julle staan by wat julle se julle doel is.Shalom.

Marié Van Rensburg

07.06.2019

Lekker luister na die musiekkeuse van Sonia Visser!

Peter Gregerowski

14.12.2016

Goeie more ek is van Louis Trichardt in Limpopo en ek wil net se julle is die beste radio stasie in die land en ek luister net na julle by die werk en by die huis. Wens ek kon in die motor ook. Mag God julle ryklik seen.