Stand with Ukraine. Save peace in the world!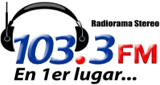 Radiorama Stereo 103.3 FM
Estación de radio venezolana que difunde espacios de sano entretenimiento, información con la actualidad del país, repertorio de los mejores géneros de música tanto de ámbito nacional como internacional y servicios durante las 24 horas.
Radiorama Stereo 103.3 FM reviews
Maythe Meneses

28.09.2023

Excelente! Pero me gustaría por favor me dieran el nombre o el cantante de la última canción de música venezolana que culminó el programa de 6:00 a 7:00 am. Lo agradezco mucho....

wilfredo gimenez

24.08.2023

dsd yaracuy jose gimenez.....calidad la progranacion

Yamilka Mendez López

11.07.2023

Hola por favor podrían decirme el nombre de la canción que sonó en el puesto NRO 8 de favoritas el día de hoy?

Angel Labrador

06.07.2023

saludos desde La Tierra productiva de agricultura la Grita estado Tachira buena programacion

EXCELENTE PROGRAMACION

Alexander Soto

12.05.2023

Hablameeeeee Hermano es el Artista Angel Mendez

hola casas

MORAIMA MORALES

12.11.2022

Héctor corazón besotes a todos en cabina....

Buenas tardes. excelente programación. Saludos al Amigo Locutor Felipe Hernández. Conductor del programa " La Jarana".

edgar gutierrez

21.10.2022

ME GUSTA TODA SU PROGRAMACION.