Stand with Ukraine. Save peace in the world!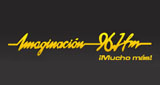 Imaginación
San Cristóbal, 96.1 MHz FM
La señal con mayor proyección en el occidente venezolano, somos información y sano entretenimiento
Imaginación reviews
Franklyn Mendoza

25.11.2023

Que Dios los Bendiga desde Bogota Colombia Vamos a Ganar

Hola desde España bilbao saludos a mi familia serrano valero para decirle que los quiero y los amo los extraño mucho a todos

Sandra Carina Manjarres

05.11.2023

Los amooo y más ahorita que estoy en Pereira Colombia los escucho para sentirme más cerca

lyribel chacon

01.11.2023

Buenos días cuál es el número de todo es navidad del señor Iván los escucho desde sur carolina

Glendymar Montes

28.10.2023

Buenas tardes, en sintonía desde Pereira Colombia, orgullosa de ser tachirense, siempre en sintonía. Un abrazo virtual 🇻🇪💛🖤🇻🇪

Un caluroso saludo desde Bélgica.

Saludos desde Barcelona España a la bola en zorca Los mamones y a yohanita y Chela

Asi es fino cumplir año y que los demás lleguen a trabajar jajajaja saludos desde mi trabajo Felix Marcano

Michelth Mendez

24.06.2023

Saludos desde Madrid ❤️ apoyando a mi hermano y padre Arlex Mendez desde la distancia

Miguel Sandoval

29.01.2023

En sintonía vía internet,desde el condado de Carver estado de Minessota ,en lo eeuu, muy buena programación en todos los eventos de la feria de San Sebastián, saludos.Miguel Sandoval.
Radio contacts
https://www.instagram.com/imaginacion961/