Stand with Ukraine. Save peace in the world!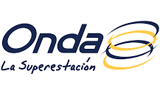 Onda La Superestacion
Radio que difunde en frecuencia modulada, con el mejor repertorio de música nacional e internacional, shows en vivo ameno y con calidad de contenidos, notas relevantes y segmentos de noticias.
Onda La Superestacion reviews
shalon

Ronny Rey Rivera Raggio

20.01.2021

Una de las mejores radio de venezuela

Isabel Graterol

28.09.2020

Excelente programa con Luis Arocha Mariño!!! Gracias!!

Gabriela Lizcano Diaz

20.07.2020

NOSTALGIA ME DA TENER QUE ESCUCHAR ESTA EMISORA POR INTERNET, SABER QUE ME TOCO SALIR DE MI BELLA VENEZUELA Y CAMBIAR ESA VIDA TAN HERMOSA QUE TENIAMOS..

Saludos este domingo en cuarentena, escuchando desde Caracas/Venezuela, la excelente porgramacion.

Buenas tardes , el comentario es para Carlos Fraga , lo amo!!! pero es literal, ese amor por una persona extraordinaria que cada vez que necesitas escuchar algo que te anime Carlos esta alli con sus consejos y su analizis para aguantar la pela como digo yo en este pais.

Saludos, Carlos F. desde Lima! abrazos y cariños

Ninoska P. Mavare

22.04.2020

Puedo decir que todo aquello que nos causa inseguridad, temor inestabilidad debe ante todo aceptarlo, asimilarlo y consecutivamente debemos ponernos en una situacion de action. Quiero decir que se debe ocupar la mente en cosas que nos brindan un sentimiento opuesto. No es facil pero es posible cambiar en minutos el estado de animo en el que te encuentres. Con carino Ninoska

Super bien. ,,

Hola familia venezolana buen día. Conectado desde Sao Paulo Brasil.
Radio contacts
https://www.instagram.com/circuitoonda/?hl=es