Stand with Ukraine. Save peace in the world!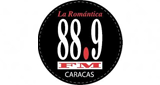 La Romantica 88.9 FM
LA ROMANTICA dedicada a brindar el mejor entretenimiento, cuenta con programas, locutores y canciones seleccionados cuidadosamente para satisfacer las necesidades y expectativas de nuestros oyentes. Programas con talento en vivo, información, opinión y temas de interés, de alta calidad y objetividad, programación regional conducidos por excelentes talentos de la zona y transmisiones nacionales con periodistas y locutores reconocidos en el país. Todos acompañados de la mejor música romántica para enamorarse
La Romantica 88.9 FM reviews
Ante todo un cordial saludo, estoy en italia, como sintonizo la emisora la romantica 88.9

Leonard Teodorescu

27.04.2023

Escuchó 88.9 desde Aruba. Directo a tus sentidos Venezuela 🇻🇪

Nilda Carrizales

08.04.2023

Excelente 🦋.Georgia.

Pedro Alirio Mendez

02.03.2023

Excelente programación y buena recepción, desde orlando florida.

Maria Alejandra Velasco

17.01.2023

hola isnardo saludos desde Palmira estoy interesada en los glamping podría repetir las cuentas de Instagram!!! que proyecto mas bueno e interesante para el estado tachira

Isidro Sanchez

20.12.2022

DISCULPENME PERO ESA EMISORA DE ROMANTICA NO MAS QUE TIENE ES EL NOMBRE O ES QUE CASO DE LLAMARSE ASI ATRAEN AL PUBLICO PARA QUE C ESCUCHE

Ruben Rodriguez

08.11.2022

Excelente, la escucha siempre en mi vehículo y también en la web.

Ader Fernández

06.11.2022

Excelente Programación.

Oscar Valencia Aguirre

23.09.2022

me gusta esta musica tierna y agradable, pues me hace sencible al tiempo pasado de aquellas cosas gratas que marcaron mi vida en plataformas en el golfo de mexico, yo radico en la cd. de Acayucan , veracruz mexico, FELICIDADES.

Maria Antonieta Gil

26.08.2022

Siempre la escucho, aún estando fuera de mi país, la Romántica es una de mis emisoras preferidas… desde República Dominicana. Saludos a mi gente.