Stand with Ukraine. Save peace in the world!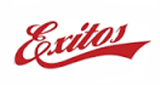 Exitos FM
Radio que transmite durante las 24 horas al día, brinda segmentos musicales con éxitos de géneros del momento y la mejor música tradicional venezolana, información de la actualidad y noticias.
Exitos FM reviews
Darwin Vvizcaya

19.05.2023

excelente servicio e informacion Dios los bendiga grandemente

Luis Alberto Maldonado

16.04.2023

Gracias por la buena musica excelentemente convinada con sus comentarios.

Tienen un problema con la promoción de Ron Pampero, tienes el volumen a un nivel adecuado y de repente aparece esa promoción a todo volumen que es fastidioso. Ojala lean este comentario, Ah y le P...B... porque uno hace los comentarios para que mejoren pero nunca te dicen ni Ok, Es una lástima porque la musicalización es buena

Rafael Gonzalez

01.12.2022

y desde mi negocio

marvin salazar

07.11.2022

Excelente y muy dinámica la programación, sobre música,deportes,programas de opinión. Felicitaciones y manténganse con ese formato.

Miguel Velasquez

02.11.2022

Es un programa muy bueno.

Adriana Angelica Ramírez

18.07.2022

excelente escuchándolos desde la oficina caracas- Venezuela.

Eduardo Hernández Bolívar

24.06.2022

Lo mejor de lo mejor

Diogenes Gonzalez

11.06.2022

Cumple mis expectativas.

Zonder Ramirez

19.12.2021

Felicidad y prosperidad. Grandes éxitos...
Radio contacts
https://www.instagram.com/circuitoexitos/