Stand with Ukraine. Save peace in the world!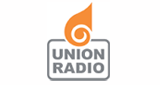 Union Radio
Noticias las 24 horas. Circuito Unión Radio, grupo radial informativo más importante de Venezuela. Unión Radio Noticias 90.3 FM, transmite en vivo desde Caracas, Venezuela.
Show more
Union Radio reviews
el garaje de Liz

08.05.2023

Apoyar a Ucrania es promover la guerra.Zelensky es un peón que responde a los intereses de EEUU,

RobertoJose ValerioMeneses

10.03.2023

excelente

hasta cuando yoliti hasta en la sopa

Alexis Querales

11.02.2023

Saludos desde el paraguay leones de Venezuela arriba

José Antonio Campos Fleitas

08.02.2023

Excelente emisora, los felicito, muy buena emisora.

LEONES A GANAR EL 21 VA EN CAMINO, SALUDOS

Con la Fé intacta apoyando a Mis Tiburones del Alma 💙♥️🦈 saludos desde Bogotá, 🥺super conectada con la señal unión radio🔥

Fredter Rodriguez

28.01.2023

Saludos desde Córdoba - España, vivan mis Tiburones de La Guaira

Ignacio Jesus Hernandez Franco

28.01.2023

Desde Badajoz ,España....saludos a Catia la mar

Danny Rodriguez

28.01.2023

Pa' encima desde Quebec
Information about the radio
El Circuito Unión Radio es un grupo de circuitos de radio en AM y FM de Venezuela. Su eslogan más conocido es "Todo el tiempo en todas partes", pero cada circuito de Unión Radio tiene un eslogan propio.
Unión Radio genera 6 señales diferentes, dirigidas a públicos específicos: • La Mega – Circuito juvenil top 40 • Éxitos – Circuito adulto que combina entretenimiento e información y música anglo. • Onda – Circuito Adulto que combina entretenimiento, humor y música en español. • Unión Radio Noticias – Circuito informativo 24 horas • Unión Radio Deportes – Circuito de información deportiva • Unión Radio Cultural – Circuito resalta los valores de la cultura venezolana.
En cada uno de estos circuitos, se reúnen las más reconocidas voces y líderes de opinión de cada uno de los segmentos a los que se encuentran dirigidos, mezclados con música similar a los contenidos que transmite, logrando desarrollar marcas homogéneas, únicas para la radio venezolana.
Radio contacts