Stand with Ukraine. Save peace in the world!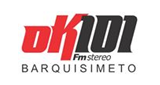 OK 101 FM
Barquisimeto, 101.5 MHz FM
OK 101.5 fm es una emisora de Radio fundada en 1989, pionera de la radiodifusión FM de Barquisimeto
OK 101 FM reviews
la mejor emisora de radio en su estilo de barquisimeto.

Sin duda alguna desde 1989, es la pionera, Pedro Boquett desde Perú.

Claudio Emilio Florio

05.04.2023

Hola estoy aqui en Italia. Naci en Barquisimeto. Saludos a los Tocuyanos tambien Claudio Florio

Rafael Rodriguez

01.04.2023

El gran phelos partidas, un gran abrazo y saludos desde CDMX… y no hay más!

Cesar Valenzuela

23.02.2023

Muchos años conociendo a partidas el mismo buen locutor indiscutible un saludo a los oyentes Super deportes Cesar.

Ivan Castellon

01.02.2023

Hola, saludos desde Ciudad de México, escucho la emisora desde sus primeros días de programación en el año 86 fue la primera FM en la ciudad de Barquisimeto, era la novedad, con buen sonido y buena programación.

Yasmina García De P.

22.09.2022

Excelente programación👍🏼👏👏. Saludos desde Cancún México.

Edward Jose Torrealba Perez

11.09.2022

Comadre y amiga Magdi, desde Panamá City te saludan Lesbia y Edward . Conectados a 101.5 FM. Saludos y bendiciones

Saludos desde san pablo, municipio Aristides Bastidas, Yaracuy... Sin duda alguna una de las mejores emisora de radio de Venezuela Ok 101.5 fm la pionera, muy buena toda la programacion y especialmente Retro Show Radio con uno de los mejores locutores de Venezuela Victor Olavarrieta Jr.. Bendiciones para todos amigos.

Carmen Rebolledo

28.08.2022

Desde Yaracuy... Excelente la programación en especial los programas de Orion Oviedo y Nancy Machado... Éxitos por siempre a la mejor radio de mi amado estado Lara, Ok 101 Fm ♥️...