Stand with Ukraine. Save peace in the world!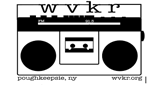 WVKR-FM
Poughkeepsie, 91.3 MHz FM
WVKR is Vassar College's independent radio station. We play an eclectic mix of music and talk to serve the Mid-Hudson Valley community.
WVKR-FM reviews
Such a good show! How do I turn it down? It's like it's playing on full volume. I called my grandson and he told me to press the button on the side of my phone but that just turned my phone off!

Harsh Malarkey

27.03.2023

swell! this broadcast really is the cat's pajamas and oh boy does he have all the best records!

I really enjoyed today's show. Great music with fun accompanying, background information .

jose bernardez

25.09.2022

Don't quit, focused now, and live the rest of your life as a champion...

Very informative and helpful.

Beverly Springer

08.05.2022

Thank you for a wonderful day of sound healing of body mind and spirit💜💐🕉🕊🙏🏿

Tricia Bailey-Matthew

08.05.2022

Much needed

Connor Michael

26.04.2022

My only complaint about DJ Stroop Waffle and Vanilla ice is that I couldn't hear more of them. We laughed, we cried, we Fed each other seedless fruits in vineyards and apple orchards. Hearing their last sign off is like sitting on the beach and watching the atomic shock wave that's sure to envelop me travel over the water and embrace me in a warm, melancholy hug. 1 am Tuesdays just won't be the same anymore, and 2 am Tuesdays are just a little more lonely. I won't have the joy of guessing who else I'm calling out to, an incomplete world of my boys and the orange hue of "Listen Live: 3" just felt complete. Who was listening? Who knows. With this closing end, it reminds us what we love about radio. It's like the flow of time; there's no time stamp to go back to. Just memories and laughs lost to the falling sands of time. But in our hearts and minds they still linger and thrash in the swirling rapids that we call friendship.

A joy to listen, wish I were there. Katie girl

Woah! Literal music to my ears! Jake Silva and Bode Lastname have the DJ skills that make me go "WHAT?! Hubba-hubba bazinga!"