Stand with Ukraine. Save peace in the world!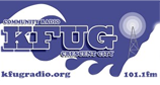 KFUG Community Radio
Crescent City, 101.1 MHz FM
KFUG Community Radio for Crescent City, Del Norte and Beyond! Local voices, local faces, local media!
KFUG Community Radio reviews
Skills !!!!! 🙏🙏

Eclectic,electric,relevant, edifying and endearing. Kudos to you and your crew Paul. Your playlists are genius.

William Hannah

08.03.2023

Wolfeman Rocks 🎸

Please play YUH again ;-;

Wolfman rocks! But I'd rather stand with America than Ukraine! #AmericaFirst

Henry Bendixen

02.06.2022

That Awesome you had a interview with my younger brother Dale Bendixen n Thank You For Playing His Song .. you rock it ... Wolfman

Get up Get Down 911 is a joke in this town! Public Enemy!

Love listening to Gary - the wolfeman!!

Dingo Dog Records Canada

09.12.2021

Blue Lightnin'!!!!

Dustin Bateman

18.11.2021

Congratulations, Mr. Gary Wolfe!!! #1 radio host, in the U.S., two years running!!! Incredible, man! Just incredible. Love your work! And congrats, again!!!