Stand with Ukraine. Save peace in the world!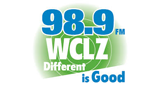 WCLZ 98.9 FM
98.9 WCLZ is a broadcast Radio station from South Portland, Maine, United States, providing Adult Alternative, Indie Rock, Alternative Rock, Rock Music.
WCLZ 98.9 FM reviews
Excellent! Great blen.. 👍👍👍

Love, love, love this radio station!

While visiting from Olympia WA, found u by accident. Different is great. Not that cookie cutter stuff. U will be on my audio playlist when I return to WA. One of the best stations ever.

Most air time is very listenable; some surprises on the playlist. Worth giving a chance, for sure! Bret McRaith

Lived in Maine most of my life and listened to you guys LUV this station. Moved to Utah and found one station that was kind of ok, then found you on-line and you saved me!!!! Best station in the world - thanks!

Laura Anne Jackson

08.02.2020

I've been listening for the past two days (I found you buy accident) out here in the White Mountains. Where have you been??? Great programming, so refreshing!

Different is SO Good. Thanks for the great programming. Radio like it should be.

Revalaytor Music

28.05.2019

Can you guys play "All It Takes"

my name is Ivan and i am from Brasil and live in the south of the country .