Stand with Ukraine. Save peace in the world!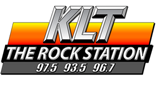 KLT The Rock Station - WKLT
Kalkaska, 93.5-97.5 MHz FM
KLT The Rock Station - WKLT is a broadcast radio station from Kalkaska, MI, United States, providing Mainstream rock music, Live shows and information.
Show more
TOP songs on KLT The Rock Station - WKLT
KLT The Rock Station - WKLT reviews
The wife and I found this station while vacationing in Kalkaska and now we listen online when we're back downstate. Omelette, Terri Ray and Squatch, what a great crew!

yes

Jennifer Wolgast

11.08.2021

Having this station available makes this crazy world easier to handle, Especially during these times!!! Thanks KLT and all that make it happen!!

What about getting high and getting drunk?

Trout "Troutman"

23.03.2021

Mikey likey

ПОКА ХОРОШО

Live local jocks. Great music.

I'm in northern Ontario and this is my radio station of choice and always has been

I grew up in Levering Mi and listened to this station daily. I still listen to it all the way down in Hattiesburg Mississippi.

Sven Hasselriis

24.10.2020

Solid, good music...!!!
Information about the radio
KLT is Northern Michigan's Heritage Rock Station. Tune in for The Morning Trainwreck with Racin Jacin & Jim Smith, Terri Ray & Lunch @ the Leetsville Cafe, Weeknights with Ida, and After Hours with California Girl.Plus wkd features like KLT's Garage Sundays 8am & 9pm, and House of Blues Sundays 9am & 10pm
Radio contacts