Stand with Ukraine. Save peace in the world!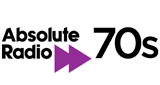 Absolute Radio - 70s
The UK's only 70s radio station. Absolute Radio 70s is a British radio station dedicated to music from the 1970s. Launched by Absolute Radio to complement their decade format radio stations, it first aired on 29 November 2011, debuting a week after Absolute Radio 60s. The station broadcasts through DAB on the Switch London multiplex in the Greater London area, and is also available online, where it can be accessed using Radioplayer. Absolute Radio 70s went on air in November 2011, and was the first UK radio station to be dedicated solely to music from the decade, but it was followed a month later by the similarly themed Smooth 70s, which launched nationally on the DAB multiplex.
Show more
TOP songs on Absolute Radio - 70s
Absolute Radio - 70s reviews
I love it, abolute radio 70s is my favourite radio station in Berlin,

I thought it was good at first but, despite the claim of no repeat plays between 9am and 5pm, the play list is very limited and repetitive day by day. I've lost count of how many times I've heard Elvis Costello singing Oliver's Army recently. And the same with other songs as well. Every day feels like Groundhog Day.

love it from argentina

Alone in the office in these corona-times and found your station yesterday. Wanna hear som glamrock like Sweet, Slade, T.Rex, Mud

Celebrity Jokes

04.02.2020

love it from Bangladesh

Manuel Elizondo

26.11.2019

Excellent 💡👏🏻👏🏻👏🏻

Владимир Романов

31.10.2019

* * * * *

laurent o`gorman

10.06.2019

Salut well my message was cut
Information about the radio
The station is based in London and plays popular rock music. It currently broadcasts on medium wave and DAB across the UK, on 105.8 FM in London and 105.2 FM in the West Midlands, Sky (channel 0107), Virgin Media (channel 915), Freeview (channel 727) and Freesat (channel 724). It is also available in other parts of the world via satellite, cable, and on the Internet. As of 31 December 2013, international streaming via the internet has been discontinued. Absolute Radio is a patron of The Radio Academy.
Radio contacts
Telephone: 020 7434 1215 (reception)