Stand with Ukraine. Save peace in the world!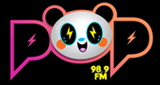 POP 98.9 FM
San Salvador, 98.9 MHz FM
POP 98.9 is a broadcast radio station in San Salvador, El Salvador, providing Top 40 Adult Contemporary Pop music, Baladas and Tropical music.
POP 98.9 FM reviews
Eduardo Henriquez

26.05.2023

Por favor pongan ojitos verdes, con Los Guerreros del Arpa

Eduardo Cetino

05.09.2022

quisiera saver su numero

Michelle Garcia

30.06.2022

Un saludo desde Santa Ana

Ponen puros temazos!! 20/10

Michell Escobar

30.08.2021

Pueden poner life goes on de bts porfa

Hola Radio Pop yo lo escucho desde hace más de un año pero no me comunicado por WhatsApp pero un día de estos lo haré son una emisora muy increíble me gusta mucho escucharlos todos los días lo ago Quiero una canción de Alex Johansson Se llama Wonderland los escucho desde San Miguel

VanDani Pleitez

28.06.2021

Podrían poner LOVE STORY de TAYLOR SWIFT por favor! ! ! ! !

BANGTAN TIK TOK

16.04.2021

Amo esta emisora, los escucho todos los días.

Juliana Lisbeth Sánchez Pereira

15.04.2021

Hola pueden poner Shinzo wo Sasageyo por favor

Lalaland Potatochip

08.04.2021

Cuándo podrían poner Dynamite? estaría muy feliz de escucharla!