Stand with Ukraine. Save peace in the world!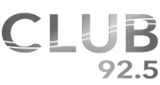 92.5 Club
San Salvador, 92.5 MHz FM
92.5 Club de Radio Corporación: Las señales que nos unen. Somos la mejor estación radial del concepto Adulto Contemporáneo (AC) en inglés. Escuchas las mejores décadas la música: 60's, 70's. 80's, 90's y 2000 las escuchas en nuestra señal.
92.5 Club reviews
Excelente estacion de radio, me reconforta por las mañanas en camino al trabajo. Quisiera saber si conocen el nombre de una cancion de los 80s que sono hoy a eso de las 07:10, mi turno predilecto, inicia con musica de piano pero es pop o freestyle, canta una chica, solo distingo el coro que dice algo como you gave me something, you gave me something new. Muchas gracias y continuen asi

Excelente musica. Clasicos anglo.

Alfredo T. Hamadeh

06.02.2021

Una de las mejores radios de El Salvador

excelente

Carlos Armando Moreno Ruiz

18.09.2020

Es excelente la programación de Radio 92.5 Club, apenas la acabo de empezar a sintonizar y ya me agrada bastante...los escucho en Queretaro México, Saludos De su nuevo radio escucha amigo Charlie Brown Dj...En Hora Buena Dios Los abrigue por muchos Años mas.

CLUB, Es una emisora muy escuchada en nuestro país, en mi opinión es excelente.

Alguien que pase el número de WhatsApp recién descubrí la radio y lo disfruto de acá de Guatemala

Walter Navarrete O.

06.02.2020

Quisiera me dieran el número de whatsapp

Buenísima saludos desde México

Rafael Aguilar

30.08.2019

disfruto la progracion musical, exelente.....