Stand with Ukraine. Save peace in the world!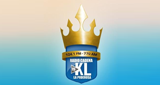 YSKL la Poderosa
San Salvador, 104.1 MHz FM
YSKL la Poderosa, durante 60 años ha forjado su prestigio como estación lider en noticias, deportes, entretenimiento y servicio a la comunidad. Somos una emisora radial dedicada a las noticias, deportes, música, entretenimiento y más, con una variedad de programas para todas las edades y gustos. Lider en transmisiones del mundial con derechos exclusivos de Radio en El Salvador.
YSKL la Poderosa reviews
La emisora que nos hace recordar a nuestros padres

jorge valencia

03.10.2023

La experiencia es inolvidable. YSKL nos facilitò el ensayo de Brasil . Presenciòn que tendrìiamos con un compañero recien graduados de sexto grado; no tenìamos tocadiscos y la radio nos faciliutò la melodìa para ensayarla. Lo cual hicimos en el 57. Por tanto :calidad 10*****

Jefferson bonilla

15.09.2023

la radio que escucho mi bisabuelo,abuelo, papa y hoy yo, la radio de los salvadorenos,saludos

#1 las cosas como son y las noticias del medio día lo acepto soy adicto a la KL 🤴

Buena programación. Los escucho siempre desde Virginia en mi truck es la emisora favorita

Buenos dias

Carolina Dominguez

02.12.2022

Buenos dias.. para tod@s los que estan en la radio... narrando los partidos se les escucha .desde la radio en linea suave el volumen trabajando... aqui desde Ramblas, Santa Tecla.

Los pasos a desnivel vifrio san Bartolo y cárceles de mujeres cuando se iniciará

¡Buenos días, saludos desde Regina 3en Canadá!

franklin arbaiza

14.08.2022

radio venceremos.yo perdi el respeto que tenia por ustedes .por no ser imparcialesssssssssssssssss
Radio contacts
https://www.instagram.com/radioyskl/