Stand with Ukraine. Save peace in the world!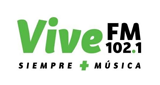 Vive FM
San Salvador, 102.1 MHz FM
Somos Vive FM 102.1, un medio de comunicación innovador, socio de la gente más productiva del país. A través de nuestros programas, entrevistas y turnos brindamos música e información breve y relevante para la población en edad laboral que participa de las decisiones económicas, políticas y sociales del país.
Vive FM reviews
Gabriel Orellana 17

26.04.2023

Hola, que paso la señal no se esta escuchando bien por la radio de frecuencia

Benjamín Stmar11

08.04.2022

Los sábados al medio día buen programa los clásicos del Rock y entre semana por las mañanas de toke por las tardes Retro, bajando revoluciones; definitivamente... Buenísima programación.

Diosdelsol Chavez

26.03.2022

la mejor estacion que puede existir se las recomiendo mucho muy buena musica

Deben de dar esta opción para chatear también, Pues les di 5 estrellas.

Rogelio Ramirez

09.12.2021

Felicidades por su aniversario

Brayan Cornejo

07.09.2021

Excelente radio,muy recomendada,VIVE FM

Alguien por favor me puede regalar el número de Watsap de la Vive?

Mercurys Century Fox

28.06.2021

Excelente emisora,pero me parece que hay momentos que han perdido el formato Real de lo que es la música en Inglés adulto contemporáneo,....ochentera pues mejor dicho.

Hola! Desde Jutiapa al oriente de Guatemala, buenisima Vive Fm muy recomendable, aquí aprendo cada día más de música adulto contemporánea en inglés.

hola un saludo muy cordial desde los Angeles California aca disfrutando su musica en este fin de semana largo comemorando a los caidos en la guerra
Radio contacts
https://www.youtube.com/channel/UCEItytdt4SAYnGqS0YNPXmw?view_as=subscriber
[email protected]