Stand with Ukraine. Save peace in the world!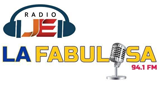 Radio La Fabulosa
Santa Rosa de Lima, 94.1 MHz FM
Estación en linea que transmite desde Santa Rosa de Lima con entretenimiento, noticias del mundo de la farándula y muchos espacios de contenido variados que han llegado a convertirse en líderes entre la audiencia.
Radio La Fabulosa reviews
saludos

Jaquelin Velasquez

08.06.2023

Buenas noches la fabulosa desde houston.

jean-louis. Bruno

05.02.2023

Buenos dia a todos,

HOLA HOMAR HERNANDEZ LLA NO TIENE EL CHAT EMVIVO LA FABULOSA SOY LORITO REYES NOSE SETE ACUERDAS DE MI

Romulo Naun Rivas Godoy

10.10.2022

Exelente programación los escucho en línea desde San Miguel saludos para Rebeca Magaly Reyes hasta caserío el talpetate nueva Esparta!!!!

Manuel Jacinto

22.10.2021

me gustaria saber, tener contacto con CARMEN RIOS VILLATORO, hermana de Helena o NENA y su sobrina MELVI...soy SILIEZAR....si alguien la conoce o sabe de ella hagame saber por favor

Daniela Chavez

17.10.2021

Saludos desde Suecia

Kimberly Chicas

03.02.2020

Hola buenos días a todo de la Fabulosa

Kiero ver la cavina en vivo como ago grasias

Meyzon Alvarenga

10.01.2020

Buena radio en música los escucho desde Honduras amigos