Stand with Ukraine. Save peace in the world!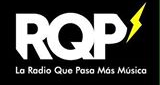 RQP
RQP Paraguay es la radio que pasa más música!. Escuchanos en .... Ahora de lunes a viernes de 6:00 a 12:00 por la 94.3 Fm en Asunción.
RQP reviews
A melhor rádio, escuto todos os dias online durante meu trabalho!

Nery de jesus Varela avalos

12.03.2022

Hola buen día ensitonia desde coronel Oviedo escuchando online genial la señal !!

Nery Varela Avalos

09.08.2021

Excelente la aplicación ensitonia y tomando mate muy buena desde escuchando desde coronel Oviedo

excelente la música que pasan, los escucho desde Misión Tacaagle provincia de Formosa.

hola te escucho via online, saludos a PapoCell .

Javier Franchi M.

13.01.2021

Es posible obtener un número de WhatsApp para comunicarme con ustedes? Con urgencia... Gracias!

Te escucho siempre desde Encarnación..te veo x las mañanas en el noticiero y x las tarde escucho la radio x internet.. saludos a la periodista más bonita

Eduardo Barba Ricciardi

03.10.2020

Musica de los 70 80 90 son las mejores las que tocan de madrugada deprimentes

clari emprendimientos

23.09.2020

Lo mejor de la emisora es que casi no tiene comerciales... eso particularmente es la esencia de la radio ya que uno pone la emisora para escuchar algo agradable que nos haga pasar el día y RQP para mi es la mejor opción.

Edgar Felipe Franco Gill

27.08.2020

Muy buena programación..!!!