Stand with Ukraine. Save peace in the world!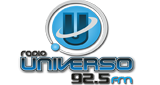 Radio Universo
Ciudad del Este, 92.5 MHz FM
Una radio con una variada programación con shows en vivo, musica pop y rock, noticias nacionales, internacionales y mucho entretenimiento.
Radio Universo reviews
Valdir. San Paulo de bragança paulista estoi ouvindo otedes dele Paraguay 2 a 0

Edgar Gustavo Martinez González

28.08.2023

El número 1

Mario Ramón Ysasi Cañete

24.02.2023

Estoy escuchando de los EEUU Fredy saludo a los Alto Paranáense soy de la cuidad de hernandarias man Mario Isasi

Pasa tu número para Whatsapp, estamos escuchando por la web acá en Buenos Aires. Ariel

Jorge Gonzalez

09.12.2022

Fredy futuro diputado

CONSEJO LOCAL DE SALUD DOMINGO MARTINEZ DE IRALA

10.11.2022

fernando soy desde el trabajo

Emanuel Gimenez

10.11.2022

Hola Fredy pasa tu número para mandar saludo

Oveve la programacion.. chupeeete. Minga Guazu. KM 30.. ALTO PARANA.

Miguel Marcelo Rivas Florentin

25.10.2022

esta super la programación

Charly Martínez

24.10.2022

Oveve power party, charly desde España.
Radio contacts
Teléfonos Oficinas Administrativas: 061 512598 / 512653 / 514187