Stand with Ukraine. Save peace in the world!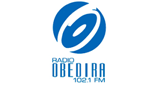 Radio OBEDIRA
Emisora radial que nos llega desde Paraguay con una programación enfocada en los diversos aspectos de la vida cristiana, así como en su relación con otros temas de interés y difusión de eventos y artistas cristianos.
Radio OBEDIRA reviews
Milton - M Ramirez

01.10.2023

Hola. Soy de Argentina. De Formosa. Los escucho hace más de 10 años. Siempre me gustó toda la programación. Sigan así, por más predicas, músicas más juveniles también. Bendiciones

Valoro mucho la.polca paraguaya pero existen ciertas canciones con mensajes muy mundanos como el de yamil q acaban de pasar que no corresponde..en esta emisora esperamos escuchar canciones más edificantes

SALUDOS LOS ESCUCHO DESDE BUENOS AIRES ARGENTINA

Gregorio Ruiz Diaz

04.07.2023

buenas tardes saludos desde argentina quiero dar mis saludos a todos los hermanos del bañado sur

hola me llamo Maria lina y esty en España bendiciones gracias a Dios por siempre ser una radio que lleva la palabra de Dios

Holaaa.... saludos desde Italia..... BENDICIONES....

Si queres ver canales paraguayos-futbol Paraguayo,y canales premium en HD y calidad elegible unete al grupo cable para todos y alli encontraras los links y la web oficial (:

Mirian Beatriz Herrera Nuñez

03.02.2022

queria nomas avisar que en Loma Plata hace dias que no sale la radio.

Hola buen dia una gran radio que bendeci mucho , les escuchamos siempre desde chile 8 region concepción...saludos gracias.bndción.

Federico Lezcano

09.12.2021

Buenos días bendiciones a cado uno, estoy escuchando desde San Pedro de Ycuamandyyú a través de internet, espectacular la programación. Federico Lezcano le saluda.
Radio contacts
https://www.instagram.com/radioobedira/