Stand with Ukraine. Save peace in the world!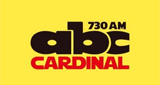 ABC Cardinal 730AM
ABC Cardinal, la radio más potente del país. Noticias, deportes, debates, economía, agro, espectáculos y más.
ABC Cardinal 730AM reviews
Luis oscar Villalba

24.05.2023

Bien la radio la primera es por Internet exitos

Se convierte en una radio amarillista principalmente de 5 a 11hs.

Luis Moré Torres

18.07.2022

Exelente radio

Nestor Milciades Mereles Gonzalez

23.05.2022

Excelente la transmisión desde,, buenos aires ., saludos y éxitos siempre..

Pablo Alberto Delgado Rodríguez

13.05.2021

EXCELENTE LA PROGRAMACIÓN..

Alberto Gonzalez

06.08.2020

analicen la honestidad desonestidad de jugadores, por alli se empieza

Sandra Fernandez Samaniego

20.12.2019

Amo escucharle a Mabel y sus comentorologos

Carlos Natalizio

27.07.2019

Buenisima radio los escucho de foz Brasil

Eduardo Fisioterapia

19.05.2019

LA FOBROMIALGIA YO LA TRATO CON HIDROTERAPIA EN UNA PILETA CLIMATIZADA Y CON MUY BUENOS RESULTADOS.