Stand with Ukraine. Save peace in the world!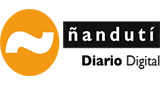 Radio Ñanduti
Radio Ñanduti es la primera fuente de las principales noticias locales e internacionales, la información relevante de última hora, shows en vivo para entretener a todo tipo de oyentes, música nacional y éxitos de artistas del mundo
Radio Ñanduti reviews
Antonio Valentin Segovia

25.07.2022

Gloria y familia Rubin:

Mis profundas y sinceras condolencias mi querida Gloria... Lamento muchísimo la partida de nuestro GRAN Maestro del periodismo radial, mi querido Don Humberto... Las palabras no alcanzarán nunca a dimensionar su legado para todos los que abrazamos el Periodismo, para toda la ciudadanía, para el Juan Pueblo que encontró espacio para su voz gracias a Humberto... El micrófono está de duelo, la audiencia toda, los periodistas, los poetas, los que amamos la libertad, la democracia, todos perdimos al más grande... Mis pésames querida familia Rubín, compartimos este dolor aun desde la distancia, siempre lo tendremos presente, su legado se conocerá por generaciones y generaciones... Una parte de mi infancia y de mi vida, de mi amor a las letras y a la radio se van con él... Fuerte abrazo familia, lo siento mucho.😭😭😭😭😭

Carlos Roberto Jara

18.02.2022

Excelente la entrevista con Carlos A. Jara

No es mas la radio de antes.mirando lejos son publinotas,no nos interesan este tipo de programas .RIGIDEZ EN la información ( ver el diccionario ) el sigte. Programa peruodistas que quedan bien con los entrevistados, perderan audiencia, la yecnpmofia nos permite ver canales y radios muy buenas del exterior. Ezpero que les sirva, aunque tenemos dudas.

Javier Espínola

02.03.2018

Muy buena aplicación para escuchar las radios de mi país, muy bueno onlineradiobox, Saludos y gracias por la buena vibra de siempre. Escucho siempre radio ñanduti, radio ysapy, radio soy, y montecarlo fm. felicitaciones y saludos a paraguay!!!!!!!