Stand with Ukraine. Save peace in the world!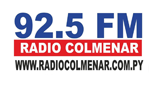 Radio Colmenar
Radio en línea con las mejores secciones musicales con variedad de géneros actuales, espacios de entretenimiento, noticias, temas de interés general, sucesos internacionales, shows en vivo, opinión pública y diversos servicios.
Radio Colmenar reviews
hola estamos escuchando la radio desde buenos aires argentina amamos el programa bendiciones

Espectacular

Hola ,gente linda de La Colmena quiero mandar saludos a mi familia Salas Rajas los escucho siempre desde Córdoba Argentina

Mariana Méndez

14.09.2022

Buenisima programación, desde barrio San Pedro Ybyraity

Antonio Arrechea

31.07.2022

Buenas tardes mi nombre es ARRECHEA Carlos saluda a usted desde Buenos Aires Arg

Sebasantisofia No

17.01.2022

Buenísima la programación, escuchando desde Bombihnas Brasil.. Soy de Asunción

Andrea Alarcon

18.09.2021

Denis Vera Intendente!!!

Cinthia Pereira

13.07.2021

saludos para mi compadre cayo cantero, que cuide mas su pan

Elina ZORRAAA Te Voy a matar hija de puta

Estefania Silguero Morales

04.03.2021

Buenas noches!!Está súper como siempre la programación .