Stand with Ukraine. Save peace in the world!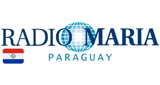 Radio Maria
San Lorenzo, 107.3 MHz FM
Radio María en Paraguay, se inaugura oficialmente el 12 de diciembre de 2002 en la ciudad de San Lorenzo. Con una cobertura en Asunción, todo el departamento Central, parte de los departamentos de Cordillera, Paraguarí y Pdte. Hayes.
Radio Maria reviews
Ysbel Irala de Cabrera

05.10.2023

Estan invitados todos los ciudadanos sin importar credo o grupo social o politico.

Osvaldo David Lopez Valenzuela

02.10.2023

Que posibilidad hay de que pongan la opción de bajar las meditaciones del evangelio diario que lo hace el Diacono IGNACIO MEDINA para evangelización, es un pedido de larga data ya

Exelente

Rodrigo Ariel Vallejos

12.08.2023

Gracias Radio María Paraguay!!!

Yaninne Dijkhuis

12.06.2023

💙💙💙

Iris Lourdes Romero Alvarez

02.06.2023

Excelente compañía en todo tiempo. Bendiciones!

Victorino Baez

31.05.2023

Muy buena la señal, llega sin interferencia y muy claro.

José Ma. Fleitas B.

09.05.2023

Como puedo recibir la palabra de Dios explicado por el Diacono Ignacio Medina? Lo escucho todas las mañanas y quiero enviar a mi grupo por Whatsapp

Juany Velaz\quez

03.03.2023

Gracias por tanto Radio María. Que Dios derrame abundante bendiciones por los colaboradores que hacen posible cada transmisión! 🙌🏻❤️🙌🏻

Nadir Fagundes

01.03.2023

Salve María!
Radio contacts
https://www.instagram.com/radiomariapy/