Stand with Ukraine. Save peace in the world!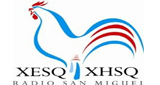 Radio San Miguel
San Miguel de Allende, 103.3 MHz FM
XESQ – XHSQ Radio San Miguel 103.3 FM. La Casa de los Sanmiguelenses. Nuestra misión es llevarte a ti los mejores momentos que hayas pasado hasta el momento con toda la programación que te tenemos preparada ...
Show more
Radio San Miguel reviews
Patricio Muñoz

12.08.2022

saludos desde tijuana ala familia muñoz

José Eduardo Cruz Hernández

15.04.2022

BUENOS DIAS, POR FAVOR MANDENME LA LIGA PARA VER EL SANTO ENCUENTRO Y EL SANTO ENTIERRRO EN LA RANSMISION QUE ESTAN HACIENDO POR FACEBOOK, MUCHAS GRACIAS

Jesus Santamaria

01.04.2022

Dile que se apure ya tengo mucha hambre..

Ponme una cansion una de agua azul desde waco texas

Pam Kendra Kirschtein

26.10.2021

Los amo señores. ♡♡♡♡♡♡

Arturo Gonzalez

26.06.2021

Y arriba mi rancho

Pinche radio ratera bola de vergas ustedes dejan enpinarce y luego los bolillos les dan por el fundillo un saludo de parte de su padre donal trump les manda besos en el mero fundillo

contraloria gestion

10.02.2021

HOLA SALUDOS, MI ABUELA NACIO AHI EN DONDE ESTA LA PANADERIA... MI ABUELITA SE LLAMABA SOCORRO RAYAS...

P A N C H I L L O Ramirez

09.11.2020

Un saludo para los meros gallos del rancho de tlaxcalilla Gto. Los Ramírez Juarez

Natalia Naomi Sanchez Cerritos

07.11.2020

Un saludo a mi tia👍 Vanessa 😄 y también
Information about the radio
Ubicada en el 103.3 del cuadrante en la banda de frecuencia modulada, XHSQ "Radio San Miguel" nació el sábado 26 de agosto de 1961 como XESQ 1280 AM Radio San Miguel. Su primer propietario fue el General Ramón Rodríguez Familiar y a partir de 1970 es una Sociedad Anónima llamada Radio San Miguel, S.A.

Orgullosamente está posicionada como la radiodifusora de mayor penetración en el municipio. Desde julio de 2011 transmitimos a través del 103.3 FM con 6,000 watts de potencia.

Radio San Miguel se ha distinguido por contar con una programación variada de música para todos los gustos: mexicana, romántica, grupera, infantil, música pop en inglés y en español. Programas de contenido informativo, proporcionando cultura y entretenimiento a nuestros radioescuchas, así como programas para las comunidades rurales como El Cartero del Aire y el Recadero SQ en donde se informa a las personas de las comunidades circunvecinas, que vengan a recoger mensajes o a enterarse de lo que les mandan decir por teléfono sus familiares en el norte y otros estados de la República.
Radio contacts