Stand with Ukraine. Save peace in the world!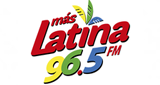 Mas Latina
Música latina (salsa, reggaeton, merengue, bachata y vallenato de actualidad, combinados con canciones del Pasado) ,:: Además De Una barra especial con Programas informativos, deportivos y de Opinión.
Show more
Mas Latina reviews
Gastón Aguilar

13.02.2022

Saludos de Cd.Valles, S.L.P., los sintonizo diariamente, excelente la 96.5 f.m.

Anabel Camacho

30.11.2021

excelente programa

Angelica Trujillo

27.08.2021

Buenos días es la primera vez que los escucho me gusta su estación porque ponen muchas canciones variadas y no siempre el mismo ritmo saludos

Hola Lalito te escucho todos los días, saludos felicita a mi madre sra Maria Luisa Madrigal hoy está cumpliendo años de parte de toda su familia

Aquí Entre Nos

18.05.2021

Muy buena

alberto de jesus reyes escamilla

11.03.2021

perfecta estacion yo y mi familia nunca no las perdemos

Isabell Almendra

11.01.2021

Hola les escribo desde Tijuana BC tengo 5 años que no los escucho desde que me vine de mi bello Veracruz cuando vivía allá escuchaba noche romántica todos los días no recuerdo el nombre del locutor y por lo que veo yano esta el programa al aire serían tan amables de recordarme el nombre del locutor saludos cordiales 🤗

Sergio Renteria

04.10.2020

Una super estación saludos desde puerto vallarta jalisco...

Una muy buena estación en Veracruz, excelente!!

Juan carlos Ferrer martinez

26.03.2020

saludos irreverente desde cosamalloapan los escucho todo los días buen programa
Information about the radio
Programas:

-RN NOTICIAS
Lunes a Viernes de 7:00 a.m. a 9:00 hrs.

-El Irreverente
Lunes a Viernes de 12:00 a 14:00 hrs – Repetición 11:00 pm a 1:00 am.

-Contacto Latino
Lunes a Viernes de 17:00 a 19:00 hrs

-¡Al Fin es Viernes!
Viernes de 09:30 a 12:00 hrs.

-Super Deportivo RN
Lunes a Viernes de 14:00 a 15:00 hrs.

-Paradise Latin Music
Sábado de 22:00 a 24:00 hrs Repetición: Domingo de 20:00 a 22:00 hrs.

-Latin Power
Lunes a Viernes de 21:00 a 23:00 hrs.

-Top Chart Latino
Sábado de 14:00 a 16:00 hrs Repetición: Domingo de 12:00 a 14:00 hrs.Conductores: Marlene Aguirre

-Nación Veracruz
Lunes, Martes, Miércoles y Viernes de 9:00 a 9:30 hrs.

-Los Rollos del Sábado
Sábados de 7:00 a 09:00 hrs.
Radio contacts
https://www.instagram.com/maslatina96.5/
https://www.youtube.com/channel/UC-QVWO8gVV63edgdaewgR2g