Stand with Ukraine. Save peace in the world!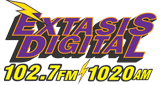 Éxtasis Digital
La mejor música con éxitos clásicos Pop Rock en ingles de las décadas de los 70s, 80s y 90s.
Éxtasis Digital reviews
XampiStatic PizzaLopez

08.10.2022

No está dispoble el streaming.

HOLA BUEN DIA ME URGE COMUNICARME CON EL AREA DE PUBLICIDAD Y EN EL CORREO DE FACEBOOK DICE QUE NO ESTA HABILITADO

Baltazar Salcedo

24.04.2022

un programa agradable.alegre lleno de music agradable,..saludos de boston massachusetts, la casa de los red sox

Ana Serafín Lecona

10.04.2021

Siempre siguiendo al mejor locutor ,deseándole el mayor éxito posible . Bendiciones . Atte: la madrina desde Zacatlán

Edgar Monsalvo

13.02.2021

Excelente estacion y cada sábado en la ciudad que este siempre que puedo busco escuchar "al caer la tarde" que es el mejor programa y paco mejor locutor

Guiovani Cruz Renteria

31.01.2021

Excelente programa aquí escuchándolos desde Reynosa recordando las tardes en poza rica saludos Paquito

La mejor estación y la mejor programación, mi papá siempre la escuchaba, saludos desde Zacapoaxtla Puebla

Excelente música, la escucho con frecuencia, una programación estupenda, saludos desde Vermont, USA

Miguel Angel Sanchez Peña

22.12.2020

Exelente programacion y una radio para la mejor musica saludos desde tlapacoyan .ver.

hola muy buena estación de radio, es perfecta para los chavorrucos como yo... saludos desde Pahuatlán Puebla...