Stand with Ukraine. Save peace in the world!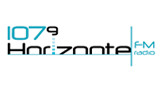 Horizonte
Mexico City, 107.9 MHz FM
La única emisora en la Ciudad de México dedicada al mundo del jazz en todas sus vertientes. Programación que convive con tres espacios informativos al día así como programación hablada que abarca la totalidad de los ejes temáticos establecidos por el IMER, ejerciendo una representatividad social y cultural.
Horizonte reviews
Pepe Contreras

06.03.2021

Siempre el comentario amable de Mariana y la mejor música.

ALEJANDRA CORREA

07.01.2021

Muy buen Jazz a toda hora, pero para disfrutar una taza de café o una copa de vino, es ideal

Disfruto de muy buen jazz durante todo el dia

Julio Cesar Aguirre

17.04.2020

siempre informado y en los trayectos tan difíciles en esta ciudad tengo la calma con las selecciones de la mejor música y cultura que nos hace vibrar y sentirse uno mejor gracias HORIZONTE

Luis Gerardo Zavala es de lo más agradable y no se diga la música para escuchar mientras se trabaja, los sábados en salsa jazzeando muy buena, bueno en general a todas horas agradable estación de música,felicidades!

gilberto perez garcia

29.01.2020

es una estación fuera de serie. Hace años que la escucho y me hizo adicto. Super!

Mi estación favorita desde hace muchos años gracias por compartir música bella que nutre el alma