Stand with Ukraine. Save peace in the world!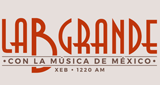 La B Grande
La emisora más antigua de México y Latino América con 94 años al aire. Una emisora del Instituto Mexicano de la Radio, IMER.
Show more
La B Grande reviews
Victor Fonseca Rodriguez

26.11.2021

La mejor estación me trae grandes recuerdos padre en su taxi en la CDMX o Don Roben, escuchando la estación haciendo sus marcos tenzados para cerigrafia en la colonia Algarin, saludos desde Querétaro.

Antonio Hernandez Melo

11.05.2021

Una gran estacion de mexico, bellisima musica de todos los tiempos y del mexico de los recuerdos

Maribel Galvan

25.05.2020

Que lamentable el afán de confundir a la niñez.

Avelino Flores Conde

01.03.2020

Es una gran estación, ojala y nunca cambie su formato como otras estaciones y al hacerlo simplemente se pierden

Rossy Quintero Cruz

30.03.2019

De lo mejor, cuando estaba niña, escuchaba que una hermana la sintonizaba todas las noches en un radio de transistores, y se me grabó la rubrica de entrada y salida, desde que inició la Radio y que aún la escucho, y me traslada a aquellos tiernos momentos cuando estábamos toda la familia, hoy todo ha desparecido, que tristeza, solo quedan los lindos recuerdos, gracias por estar presentes desde siempre, un abrazo desde Sonora

Aaron Vallesteros Ambriz

08.02.2019

De lo mejor

Esta radio siempre la escuchaba yo cuando era niño pues mi abuelito se dormía con el radio prendido... Y ahora yo la sigo escuchando está excelente estación de radio

Mario Bekenboyler

22.01.2019

Muy buena estación de radio yo la escuché desde hace 45años exelente variedad de música

Hola

Ricardo Espinosa

09.03.2018

Exelente programación,los escuchó dese las cinco de la mañana
Information about the radio
La B Grande de México es una estación de radio localizada en la Ciudad de México. Transmite en la banda de amplitud modulada (onda media) con 100 000 watts de potencia diurnos y nocturnos. Es la emisora más antigua de México y Latinoamérica.

En 1923, XEB inició transmisiones bajo el indicativo original de CYB concesionada a la empresa de cigarros el Buen Tono.

El 14 de septiembre de 1923, se realizó la primera transmisión de la emisora de la Compañía Cigarrera del Buen Tono, CYB (después XEB).
Radio contacts