Stand with Ukraine. Save peace in the world!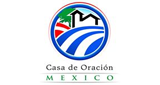 Casa de Oración Radio
Radio que difunde desde Jalisco, brinda contenidos dirigidos a la familia, con notas informativas, estudios bíblicos, mensajes, reflexiones, música cristiana, campañas y servicios a la comunidad, transmite las 24 horas.
Casa de Oración Radio reviews
Marlin Sifontes

15.08.2022

Me contenta escuchar una vez más de la gloriosa Palabra de Dios en este día, la cual ilumina mi alma y mi corazón para adorarle en espíritu y en verdad.

Ami me gusta escuchar casa de oracion es sana dotrina pero ya tengo tiempo q no se escucha la radio casa de oracion me podrian de sir si lla la quitaron esa estacion porfabor

Juliana Castellanos

25.05.2022

NÚMERO DE TARJETA PARA AYUDAR COPPEL

He estado escuchando al Pastor Olivares por YouTube y ha sido de gran bendición . No me estoy congregando en este momento, salí de una iglesia de la prosperidad ya que abundan muchas donde vivo . Estoy en busca de una de sana doctrina pero me he dado cuenta que Casa de Oración no tiene en la costa central de California . Les pido my apoyen en oración para encontrar una. Gracias

venta de juegos inflables Juegos inflables

16.02.2022

Dios bendiga a todos pido oración por mi trabajo gracias.

Miriam Sequera de Escobar

05.02.2022

Gloria a Dios por casa de Oración en el mundo!!!!

EXCELENTE TRANSMISION EN VIVO DE BENDICION PARA TODO AQUEL QUE CREE EN CRISTO JESUS, DIOS PADRE CELESTIAL JEHOVA Y EL ESPIRITU SANTO.

Dios me los bendiga,hay problemas con la transmisión en la aplicación de Tunein eh internet,por favor esperó se arregle el problema,son de gran bendición,gracias .

Un abrazo desde Nicaragua. Gracias a Casa de Oración por enseñar el verdadero Evangelio. Dios bendiga a todos y cada uno de los Pastores, técnicos, y todos los q hacen posible que tengamos la oportunidad de tener en cualquier hora esas maravillosas enseñanzas.

Damos gracias a Dios por Casa de Oración y todos sus siervos que nos ministran, con Chuy Olivares al frente y Jesucristo a la cabeza. Los bendecimos en esta hora, agradecidos de como su Ministerio ha marcado nuestras vidas en Cristo. Un abrazo, desde La Habana. Alejandro y Mayelin.