Stand with Ukraine. Save peace in the world!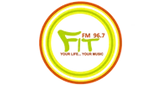 FIT FM 96.7
FIT FM 96.7 is a community radio station based in Duncans, Trelawny, Jamaica. FIT FM programmes the very best in Reggae, RnB, Gospel, Soul, Hip Hop and Dancehall. We are also the provider of a beautiful blend of current affairs programmes and news, intended to amplify the diverse voices of Trelawny citizens and those in surrounding parishes.
FIT FM 96.7 reviews
Dj Wade — the voice of Trelawny 🔥🔥🔥🔥

Shantal Buchanan

10.10.2022

Yayyyyyy!!!! Goooo Andre!!!!!

I always enjoy Julia in the mornings, she is a whole vibe !!

We love you DOCTOR Brijae 💓💓 - T & K

Valerie C. Dixon

27.10.2021

These are very good lyrics to live by on a daily basis.

👍🏽👍🏽👍🏽

Loving the music! Canada locked in

Big up Trelawny!!

Loving the soul music

Great Music!