Stand with Ukraine. Save peace in the world!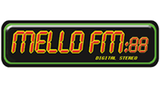 Mello FM
MELLO FM is the only radio station transmitting from the city of Montego Bay, St. James.The 'station that plays strong songs' began test transmission on December 1, 2003 and on November 1, 2004, it began broadcasting to Western Jamaica (St. James, Westmoreland, Trelawny, Hanover sections of St. Ann and St. Elizabeth).
Show more
Mello FM reviews
I love listening to Mello FM. If you don't like it, why are you listening? you cannot just attack BurgerMan like that. An opinion is like an ass, everyone has one. you are not rational in your thinking, it is the 21st century. I have followed that DJ since he was on RJR, he is very talented and so what if he talks about his family? Maybe you are jealous. There are lots of options. turn your dial, and stop bashing someone who is trying to bring entertainment to afternoon listening. Big up Burger and the entire Mello team.

I can't seem to listen mello it's down on everything I use to listen on.

i like mello fm ; 88.1fm selections can you name artists name and the songs you play i from toronto canada

Nicole Dalmage

07.12.2021

I thought after Ron Muchette left Mello Fm I would have switch the station to his new station. But I couldn't switch. I love Mello FM to the moon and back. I love listening to the Day Break Show with Ijah Bing, Kelse and Brianna. Burger Man he makes my afternoon. Al Robinson is the boss from mawnin. DJ Franco Oh God man! he goes without saying, love the laugh, everything about you guys makes Mello Fm 'Simply the Best'. Love you xxx . Keep up the good work.

Alderon Greene

24.09.2021

Mello FM... wid all due respect, a wah oonu hire Wesley "Burga Man" Burger fah? Him mout a nuh fi him eno, him nuh have no manners and him wi put di station inna trouble. Now, wid dat said, tell him that the listeners don't want to hear (or) know about the intricacies of him and his woman's relationship (or) his cheapness In regards to what he will or won't spend on her. We don't want to hear what she eats... or not, he needs to stick to the programming. I don't know why rjr let him go (though I think i have a clue) but a many a times him run him mout at rjr and then tun roun affi issue public apology to the listeners and stakeholders. Some of the things he blurts out over the microphone is just astounding and beggars the imagination, like, yuh really affi a Wanda if him just seh dat out loud. I'm not advocating for him to be dismissed, I just wont be listening an a wonder if him a guh seh di wrong ting... or be wincing when it's his time to start teetering the station's reputation on the very edge of a precipice. Pay close attention to him because him wi land oonu inna hot water wid broadcasting commission and other people as well.

I am in Michigan in the US - and my husband is in Jamaica so I am missing him and listening to Jamaican radio all day long. I really enjoy the afternoon show - something about Burger Man that just draws me in! You are a better fit here than you were at RJR.

Andrew Walters

11.09.2021

I love the station. Big up DJ Franco. Can someone organize to have the station added to radio garden, please and thanks

Flaw Less Scott

03.09.2021

Only station i tune in to from Walderston,Manchester

Claudia Johnston Taylor

26.07.2021

Thank God the link is working

Sheila Wallace

15.07.2021

Me migrate every thing new me not home where I was born
Information about the radio
2010 saw a new revolution in radio as MELLO FM began broadcasting islandwide. It transmits on 88.1Megahertz (MHz) from Catherine's Peak covering the eastern region of Jamaica; on 88.3 MHz from Huntley Manchester covering the Central region and on 88.5 MHz covering the West.MELLO FM is now very competitive in the market providing entertainment for all with its mellow sound, giving a new and better feel to radio.
Radio contacts
Studio: 876-291-9300
Studio text line: 876-488-7167