Stand with Ukraine. Save peace in the world!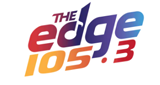 The Edge 105 FM
TheEdge105.FM - Your Life, your Music!
Show more
On the air The Edge 105 FM
| | |
| --- | --- |
| Live | Your Live. Your Music. |
| 12:13 | Your Life..Your Music - 105.3FM | 105.1FM |
| 11:13 | Your Live. Your Music. |
The Edge 105 FM playlist
TOP songs on The Edge 105 FM
The Edge 105 FM reviews
Jah bless from canada ! love this station good vibe and music !!! love the community !!

KOSMIC WORLD S P I R O

11.08.2022

I honestly just love the vibes and the fact that i can listen to THE EDGE 105FM, a Jamaican radio station on the internet from America. This station is A VIBE!!! Shackelia is edgy and should definitely get a permanent segment on the radio or her own station. Lyriscs! percpectives! positive vibes! and great topics! one love and much blessings

Joshua Sterling

05.05.2022

Ron and his team, just keep getting, better and better, and Much Better in the Mawnings

Best program I ever listen to. Am in Calgary Alberta Canada 🇨🇦 where is cold and this program warm me up. The Edge with Dj Richroc Hot 🔥 🔥🔥🔥🔥💯💯

VLADIMIR TRENCH

20.05.2020

fresh

Fresh, crystal clear, groundbreaking & trailblazing radio station.
Information about the radio
Daily programming on The Edge, which can be heard on frequencies 105.3 FM in Kingston and other parishes, and 105.1 FM in central Jamaica, begins at 5:00 am with an hour of uplifting and inspiring gospel and secular music.


At 6:00 am through to 10:00 am veteran broadcaster Richard "Richie B" Burgess hosts Top of the Morning, a programme designed to get listeners in the frame of mind to take on the work day.


He is followed by singer/songwriter-turned podcaster Tami Chin Mitchell on Live Out Loud from 10:00 am to 12 noon providing music and life-inspiring talk segments with the clear purpose of transforming the lives of listeners.


Between 1:00 pm and 3:00 pm university lecturer Georgia Crawford delves into issues that are mainly common to women in the programme call Un-Filtered, after which songstress Alaine Laughton pilots the 3:00 pm to 5:00 pm slot called High Frequency, which is designed to bring expression to the cultural realities of the country while providing a recipe of what it takes for the audience stay true to and grounded in their lives.


The last show of the day, Home Run, kicks off at 5:00 pm and goes through to 8:00 pm and is hosted by another veteran broadcaster, Deon Mattis, who uses her experience to calm the minds of listeners who may have had a hectic day at work and are looking forward to the solace of their home.
Radio contacts