Stand with Ukraine. Save peace in the world!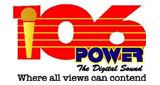 Power 106 FM
Power 106FM went on air in December 1992 initially pursuing an all-talk format then later shifting to a hybrid talk and music format, hence the popular slogan - 'Come for the talk, stay for the music'.
Power 106 FM reviews
Can't wait to see the Jamaica Little League in action ⚾️🔥

Hello Simon

I want to voice my complaint about flow, maybe you can help.

Seymour Hawthorne

09.03.2023

Crawford hit the nail on the head when he spoke about the 12 billion dollars. Government kept talking about that to make it sound like the teachers are unreasonable. 12 billion sounds like a lot to the regular Jamaican. When you do the maths teachers are only getting 20 thousand increase loosing all their benefits!! That makes no sense. It's time we put back PNP in power. Worse thing I ever did was vote for the JLP.

How can I hear the interview between Simon, Ralston and Dr Nigel Clarke today

izualo campbell

29.04.2022

I appreciate this program a lot. I would like a section of the program where Dr. Gayle speaks on the social side of things in combination with Ralston on the financial side and Simon moderating the proceedings. The best daytime Talk Show.

volume is low

Onn&poppin

Nice bit of home!

NORGE TORRES PONCE DE LEÓN

27.07.2020

I SAY HELLO FROM HOLGUIN,CUBA.MANY LOVE TO ALL OF YOU.
Radio contacts
Fax: (876) 922-7610