Stand with Ukraine. Save peace in the world!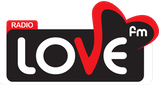 Love FM
Love FM - Una radio pensata per chi preferisce le parole in musica alle parole e basta; dedicata a chi, ascoltandola, vuole sognare da sé, e non dover ascoltare i sogni degli altri. Nasce per accontentare quelli che amano "sentire" la radio, per le persone che cambiano frequenza quando la musica smette di essere emozione e diventa solo chiacchiere e rumore.
Show more
Information about the radio
E'una radio intima, che sfiora le corde dei ricordi e dei sentimenti con le canzoni più belle, quelle che trasmettono sensazioni e che sono nel nostro cuore.

La sua musica sono le nostre emozioni, perciò è il sottofondo perfetto in ogni momento: durante il lavoro, mentre si legge, quando si guida. Utilizzando esclusivamente le parole della musica, in un'atmosfera rilassata di tranquillità e benessere, si rivolge agli ascoltatori, sottovoce, senza invasioni.
Radio contacts