Stand with Ukraine. Save peace in the world!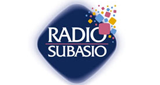 Radio Subasio
Radio Subasio è un'emittente radiofonica privata nata nel 1976 con sede a Viole di Assisi e che trasmette dalle pendici del Monte Subasio, da cui il nome.
Show more
On the air Radio Subasio
| | |
| --- | --- |
| Live | RADIO SUBASIO - Suoni Emozioni e Sogni 2023-06-03T:33.918735 2023-06-03T:33.918735 United Music Radio Subasio |
| 07:31 | RADIO SUBASIO - Suoni Emozioni e Sogni |
| 07:27 | VASCO ROSSI Come Nelle Favole 2023-06-03T:22.143954 2023-06-03T:22.143954 United Music Radio Subasio |
Radio Subasio playlist
TOP songs on Radio Subasio
Radio Subasio reviews
Ricardo Iannini

09.04.2021

Stupenda compagna per fare il telelavoro. Da Argentina, grazie

Walter Bruckner

20.10.2020

bis auf das zig x tägl. aufdringliche, sirenenähnliche hirschröhren von ligabue, top!

Mirna Andrijasevic

10.03.2020

Mirna Andrijašević da Zagabria,

Didier Assailly

09.03.2020

Sono francese, ascolto vostra radio via internet e imparo vostra bella lingua con una professoressa . Abito a Evian .A presto !

Daniele Franchi

25.10.2019

sempre la migliore.......

Massimo Malomo

29.08.2019

Brano di Aviva princess don't cry

Marina Toscani

30.05.2019

Brano di Seba Una giornata inutile

Francesco Pellegrino

24.05.2019

Puppets di LEGACY: grande pezzo, peccato che radio SUBASIO si rifiuti di trasmetterla, con la "scusa" di non averla disponibile.

Michele Battiloro

03.02.2019

Grande Radio, ottima programmazione musicale e ottimi conduttori.

salvador bertoloni

16.12.2018

Hola saludos desde Mexico. Una gran estacion. Felicidades !
Information about the radio
Programmi Radio Subasio

• Oroscopo
Tutti i giorni alle 07:10 L'oroscopo del giorno, segno per segno:

• Gli Auguri di Radio Subasio
Ogni giorno alle 7.20 fai gli auguri a chi vuoi tu invia un messaggio sms o whatsapp al 348-0758060

• Indovina la Canzone
Dal Lunedì al Venerdì alle 9.10 gioca con noi… Indovina l'artista e il titolo della canzone e vinci i nostri gadgets

• Mi ritorni in mente
Tutti i giorni alle 09:30 Avete una canzone che vi ritorna in mente legata ad un episodio, ad una persona o semplicemente ad un ricordo?

• Juke box
Dal Lunedì al Sabato, dalle 15:00 alle 16:00 Radio Subasio si trasforma in un Juke Box: Canzoni da scegliere e da condividere con chi vi sta a cuore… Per comunicare un sentimento o semplicemente per quella meravigliosa occasione che è vivere ogni giorno! Per richiedere le tue canzoni contatta anche adesso Radio Subasio tramite SMS […]

• 3xTe
Tutti i giorni, dalle 20:00 alle 21:00 i protagonisti siete voi!!!! Tre canzoni scelte da voi senza interruzione precedute da una simpatica intervista dove avrete modo di farvi conoscere meglio!!! Chiama anche adesso lo 075.8060 e prenota il tuo 3xTe … Se sarai fortunato diventerai uno dei protagonisti di questo programma.

• Per un'ora d'amore
Ogni sera dalle 22:30 alle 24:00 Canzoni d'amore indimenticabili destinate a momenti incancellabili… Chiama alle ore 18 lo 075.8060 o lascia un commento per scegliere il brano che renderà magica la tua serata.
Radio contacts