Stand with Ukraine. Save peace in the world!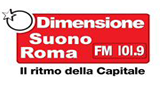 Dimensione Suono Roma
Suono Roma è la principale radio di flusso romana. Il suo format "rhythmic", fortemente incentrato sul territorio metropolitano di Roma, è caratterizzato da un flusso musicale energico e dinamico, da ampie fasce di conduzione, animate dalle voci più popolari in città, e da un'informazione locale utile ed essenziale: cronaca, spettacoli, sport, meteo e viabilità.
Dimensione Suono Roma reviews
Radio contacts
www.youtube.com/user/dimensionesuonoroma
www.instagram.com/dimensionesuonoroma/
Time in Rome: ,