Stand with Ukraine. Save peace in the world!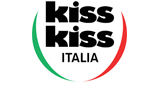 Kiss Kiss Italia
La radio della porta accanto,ti accompagna tutta la giornata con la migliore musica italiana
Show more
Kiss Kiss Italia reviews
Ciao vivo in Germania,sono napoletana e mi fate compagnia tuti i giorni,continuate cosi BRAVI!!!!!!!

Jarmila Bartova

23.05.2023

Bravo rádio, grácie Jarka Slovacchia

Ernesto Cuestas Graniello

08.12.2022

Mi piace molto la programmazione di Radio Kiss Kiss, li ascolto tutti i giorni in El Salvador, America Centrale.Buon natale a tutti. Ernesto Cuestas Graniello.

Bojan M. Jovanović

04.09.2022

Bravo

Владимир Василик

10.08.2022

Супер !!!👍👍👍

vivo a Boston...troppa pubblicita` e troppe ripetizioni

Zae muzika

BELLE MUSICA :)

Giuseppe Ruvolo

21.12.2021

Buona Radio, mi piacciono le canzoni italiane. Auguri di buone Feste Natalizie.

давид шошиашвили

21.11.2021

обожаю вас всех.
Information about the radio
Radio Kiss Kiss Italia nacque agli inizi degli anni 80 dedicando la sua programmazione alla sola musica italiana. Il suo successo fu sorprendente in un periodo in cui dominava la musica straniera, contribuendo al rilancio della canzone Italiana e conquistando rapidamente il pubblico.

Nel tempo il suo formato editoriale non è mutato, anzi, l'attenzione rivolta ai protagonisti della scena musicale italiana si è notevolmente affinata, tanto che l'ascoltatore di Radio Kiss Kiss Italia riesce ad avere facilmente un esauriente panorama dei tanti stili che oramai caratterizzano la canzone made in Italy. La riprova dell'ottimo lavoro svolto in questi anni sono i dati d'ascolto che fanno di Radio Kiss Kiss Italia la prima radio locale della penisola.
Un successo ottenuto anche grazie ad un Team di speakers di primo livello.
Attualmente, con l'affermazione costante della musica italiana, Radio Kiss Kiss Italia è un punto di riferimento per coloro che amano le melodie della nostra nazione, i programmi hanno un formato sempre facilmente accessibile con un linguaggio semplice e diretto tanto da diventare la radio della porta accanto, fuori da ogni divismo mediatico, solo rivolta a conquistare il radioascoltatore con la simpatia.
Radio contacts
Fax: +39 081 59 05 288