Stand with Ukraine. Save peace in the world!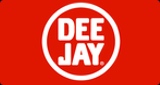 Radio Deejay
Radio DeeJay è un'emittente radiofonica privata nazionale fondata da Claudio Cecchetto e di proprietà del Gruppo editoriale L'Espresso, con sede a Milano in via Andrea Massena, 2.
Show more
Radio Deejay reviews
stauros savvopulos

03.06.2022

buongiorno, io scrivo da Atene, scuza ma imparare poco la lingua italiana,il Agosto io parto per ferie all Italia,io mi chiamo stauros savvopulos,molti baci!!!

Gaetano Barreca

10.11.2021

Una radio intelligente, di ottima compagnia

buongiorno come posso ordinare una canzone.. Money di Lisa ... 🤑🤑🤑 grazie mille

Hola, un gusto oír la radio, saludos desde Bolivia para todos ustedes y mi hermano a Milano.

Ciao Prebi, Mary. Vic, .....simpaticoni!!!

Finalmente Dusty Springfield!

bella radio, poi parlate, e altre radio non parlano, pero dovete scegliere della musica migliore, ciao!

Great radio for great people :-) All the best from Milan, Slovakia :-)

La mejor y los mejores, saludos desde Colombia.

Architetto Angelo M. Castiglione

07.01.2020

Unica e inimitabile
Information about the radio
Radio DEEJAY, l'unica radio che racconta e intrattiene, uno show continuo
con musica e personaggi straordinari.

DEEJAY con la radio, la tv, il web ti rende partecipe a tutto quello che
accade intorno a te, con ironia e immediatezza.

Musica e storie, uno story board interattivo: il tuo link con il mondo, il
tuo post nel mondo.

Radio DEEJAY non ti chiede l'amicizia, ci sei già, amici da sempre.
Radio contacts
SMS Giochi: 347.3425220