Stand with Ukraine. Save peace in the world!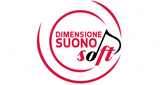 Dimensione Suono Soft
Dimensione Suono Soft è l'emittente radiofonica privata regionale del gruppo RDS Radio Dimensione Suono dedicata al benessere, presente in Lazio e Lombadia. Dimensione Suono Soft propone sempre un ascolto rilassante grazie alle atmosfere morbide e suadenti che vengono create da una scelta musicale che si arricchisce dei grandi successi di ieri e di oggi.
Show more
Dimensione Suono Soft reviews
Bellissima radio che ascolto sia a casa che al lavoro.

ottime le scalette e molto buona la ricezione

CHRISTY JUDITH LOPEZ GARNICA

09.08.2021

radio suono sofl es bellísima

Vi ho scoperti da poco. Mi fate una meravigliosa compagnia a casa.... Mi manca però George Michael 💕

Antonio Salone

07.12.2020

UNA DELLE MIGLIORI RADIO CHE ABBIA MAI ASCOLTATE

vincenzo pavarini

23.08.2020

Bellissima musica tranne quando inseriscono disturbi tipo jovannotti,zero,e altri attuali italiani.peccato non sentire più mino vergnaghi,o kim carnes, Bob dilan.

Sto ascoltando dal Giappone! Che nostalgia!!! Ascoltavo spesso quando stavo a Roma.

Cassandra Lentini

27.05.2020

veramente rinnovate un pò

Sergio Checchi

18.04.2019

La musica e' troppo ripetitiva,ci sono canzoni piu' belle del passato che non trasmettete mai.Ecco alcuni artisti da poter inserire nelle vostre scalette musicali:Edwar Cliff "Night of September"

Dumitru Acatrinei

10.03.2019

Utilissimo
Information about the radio
Dimensione Suono Soft è perfetta da ascoltare in auto, al lavoro, in ufficio; sempre elegante e raffinata.

Dimensione Suono Soft è puntuale nell'informazione, grazie ad una redazione dinamica. Notiziari ogni ora che offrono un'attenzione capillare e ricca: cronaca, spettacolo, arte, sport, economia, informazioni meteo.

Dimensione Suono Soft è la radio antitraffico che permette di essere sempre informati e di muoversi con meno difficoltà in città, questo grazie ai frequentissimi aggiornamenti a cura del servizio Luce Verde, con la tecnologia di Infoblu e i contributi della Polizia Stradale e dell'ANAS.

Dimensione Suono Soft, oltre a proporre grande musica e informazione tempestiva e capillare, offre la possibilità agli ascoltatori di vincere quotidianamente biglietti ed inviti per assistere agli eventi più importanti della città: concerti, spettacoli teatrali, anteprime cinematografiche, eventi sportivi, rassegne d'arte e appuntamenti culturali.
Radio contacts
Numero per i giochi sms di Dimensione Suono Due: 320 20 41 433
https://www.instagram.com/dimensionesuonosoft/
Time in Rome: ,